Our History
Every company begins somewhere at some time - this is our story!
Roughly 20 years ago Fleet Lighting was founded in Sydney, Australia. With a young family living in Sydney, Chris Fleet decided to buy his first truck after working his way through the ranks under Mick Morris and several others.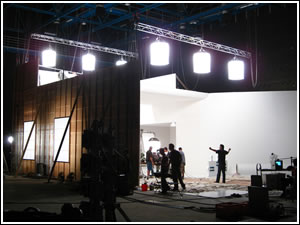 Once Chris had established himself as a gaffer he did many TV series, telemovies and US features building the business and established himself and Fleet Lighting in the Sydney market.
Ten years ago, Chris had the good fortune to land a job on the Gold Coast and whilst here saw a niche in the Queensland film industry which needed to be filled and subsequently moved his business and his family to the Gold Coast.
To set up the rental company Chris bought a lot of secondhand equipment, which he rebuilt, repaired, painted, test and tagged. Chris spent four hard years building up Fleet Lighting often working seven days a week.
After a few successful years doing TV series such as "Beastmaster", reality TV shows like "I'm A Celebrity Get Me Outta Here", "Love Island", and various feature films like "Gettin' Square" and "Inspector Gadget 2", as well as a range of TVC's, things again changed for the Fleet Lighting team.
This saw the upgrading of our trucks, the purchase of a wide range of new lamps, rigging and other equipment. It also saw the introduction of Glenn Jones, who first met Chris Fleet on "Gettin Square". Glenn armed with a few small DOP's and clients he had met started to use one of the Fleet Lighting trucks to service TVC's around Brisbane and soon saw the advantages of working for the company.
Over the coming years this side of the business grew, to the point where it is today, with Chris Fleet, Glenn Jones, Chris Walsingham and Craig Clark currently working under the Fleet Lighting banner, servicing the QLD film industry.
The Fleet Lighting Story